Amplifying Impact: The Quest for Place-based Investing Done Right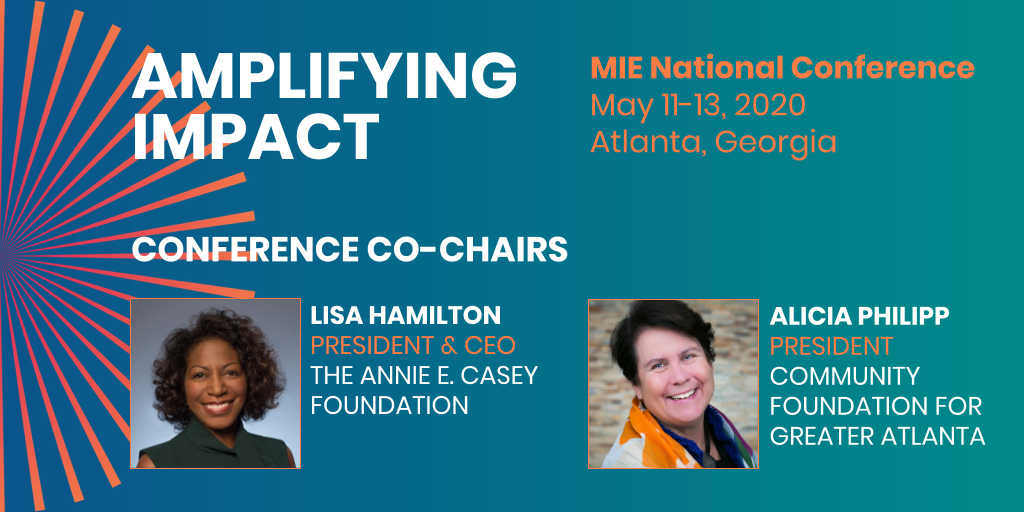 MIE is pleased to announce Lisa Hamilton of the Annie E. Casey Foundation (Casey) and Alicia Philipp of the Community Foundation for Greater Atlanta (CFGA) as co-chairs for the
MIE 2020 National Conference
on May 11-13, 2020 in Atlanta. These two organizations are among a vibrant group of impact investors and social changemakers seeking to foster equitable development while addressing
income inequality
,
affordable housing
, and other critical community needs. Read on for some of these foundations' innovative efforts as they seek to use place-based impact investing to create more opportunities for Atlantans. But this is just the beginning: we'll be exploring more stories, from Atlanta and beyond, in the coming months and when we gather in person in May!
Listening to Learn, Learning to Listen
Investors seeking to develop coordinated place-based strategies often begin by understanding the challenges facing their community, as well as the capital and organizations currently available to meet those challenges.
Atlantans are doing all of this, and more. They are collecting data, conducting deep research, and building networks to support coordinated capital. They are also challenging paradigms by working to ensure that the voices of community residents are guiding change.
Below, we share a few resources and programs created, supported, or leveraged by Casey and CFGA reflecting these activities. While the resources focus primarily on Atlanta, organizations in other regions might find inspiration in the principles guiding Atlanta's work.
Read these 3 practitioner briefs
 by MIE and Urban Institute to learn about some of the common techniques used by place-based impact investors in building strong local partnerships.
Gathering and Leveraging Data
Maintaining Local Data

Supported by CFGA and others, Neighborhood Nexus provides publicly accessible data on 700+ categories of demographic indicators that Atlanta community members care about. The tool was partly inspired by

Casey's research in Neighborhood Planning Unit V

, a region in Atlanta where they focus their efforts.

 

KIDS COUNT: National Data

For 30 years, Casey has aggregated data from a variety of sources, including the U.S. Census, to understand changes in America's child population at a state and national level. (If you're curious about what's coming in the 2020 Census count, see our

recent webinar

, featuring Florencia Gutierrez of Casey.)

 
Conducting Focused Research and Analysis
Barriers to Success for Atlanta Families

"Changing the Odds: Progress and Promise in Atlanta" is a 2019 report by Casey following up on a 2015 report exploring the barriers — to education, economic opportunity, affordable housing, and more — that prevent many of the city's kids and families of color from thriving. It includes recommendations that guide many of Casey's activities.

 

Inequities in Business Ownership

A report by Prosperity Now, supported by Casey and

the Kendeda Fund

, found that businesses owned by African-American Atlantans are smaller — in both size and value — than businesses owned by their white counterparts. This report helps clarify how and why it's important to explicitly direct investments to business owners of color.

 
Who's Who: Networks of Practitioners
Closing Atlanta's Racial Wealth Gap

Atlanta Wealth Building Initiative (AWBI) seeks to achieve shared prosperity by closing the racial wealth gap. It fosters strong partnerships through its community of practice and other activities. You can find out more about these partners, which include W.K. Kellogg Foundation, the Kendeda Fund, CFGA, Casey, and many more, on their website.

 

Mapping Georgia's Ecosystem

The Georgia Social Impact Collaborative (GSIC), in which CFGA is deeply involved, is committed to accelerating impact investing for social outcomes in Georgia. GSIC educates and connects stakeholders through workshops, events, and a directory of social enterprises, impact investors, and enablers in the region. See below for a link to GSIC's social impact ecosystem map of Georgia.

 
Investments In Action
CFGA's GoATL Fund

CFGA's GoATL Fund provides low-cost, flexible capital to support Georgia's nonprofits and social enterprises to achieve sustainable social outcomes. Capitalized through $10MM from CFGA's unrestricted funds, GoATL then opened the fund to co-investment from all types of donors, including a

recent investment by the Kendeda Fund

. Through 2019, GoATL has deployed over $8MM and raised $1.5MM from donors.

 

Casey in Atlanta