Want To Build an Inclusive Economy? Invest Directly in Women-of-Color Entrepreneurs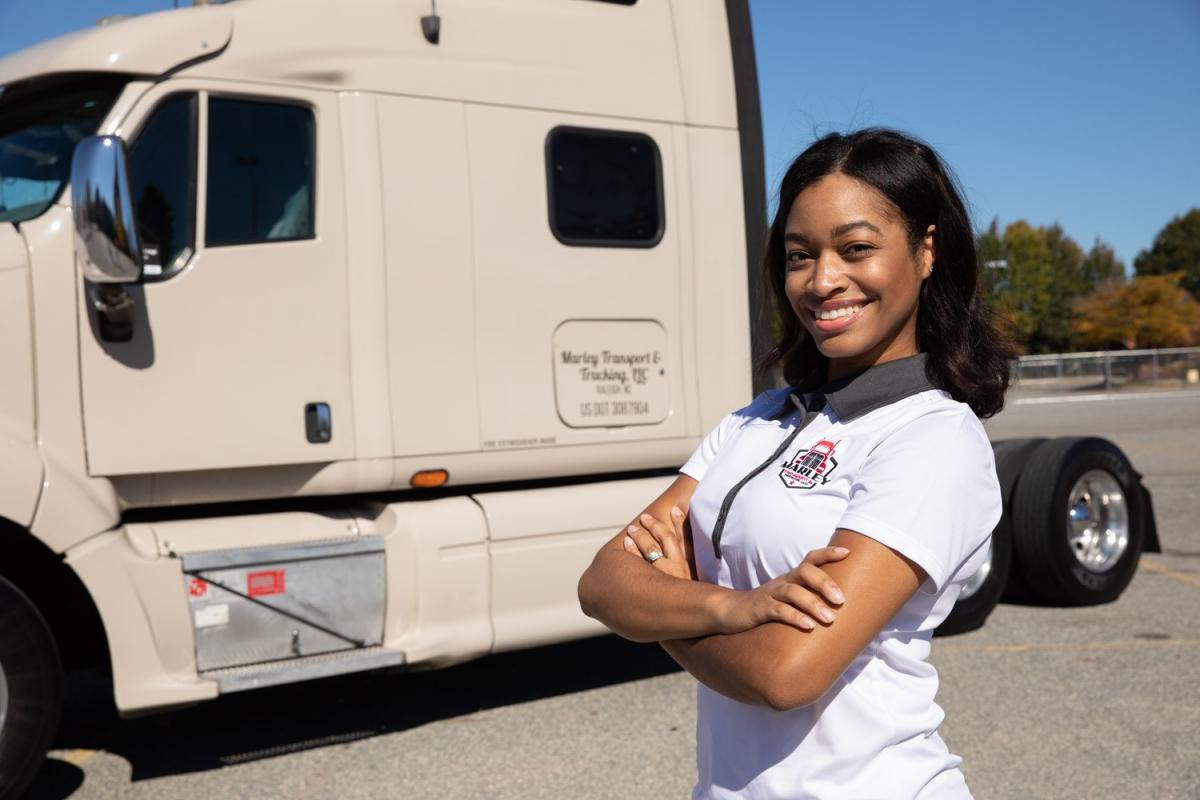 Pictured: Shavon Marley, Founder of Marley Transport & Trucking.
Shavon Marley (pictured above)  was working in sales while dreaming of starting a business in her hometown of Raleigh, North Carolina. Then in 2016 she was hit with a breast cancer diagnosis. Others might have been derailed, but Shavon used that blow to turn her dream into reality. During long hours of treatment in a hyperbaric oxygen chamber, she ruminated on the trucking business she and her husband imagined and tapped fellow patients for advice.
Her idea really took off when she connected with Scott Wolford of the Carolina Small Business Development Fund, a community development financial institution (CDFI) that helped her write a business plan, get a loan, and forecast her business's future needs. In 2018, Marley Transport & Trucking pulled its first load, and since then the growing company has established itself across the state.
Women Owned Businesses Have the Power to Transform Communities
There are a lot of smart, ambitious, tenacious women like Shavon Marley out there. What's different about Shavon's story is that she received a business loan. Although recently much-needed light has been cast on the venture capital gap for women-led startups, the funding gap for women-led small businesses is also vast—and contributes much more to the nation's gender and racial wealth gaps.
It's a question of scale: companies with women founders received only
2.2 percent of venture funding
in 2018, but there are only about
200,000 venture-track companies
total in the U.S.. Women-owned small businesses received a similarly anemic slice of loan dollars—
less than 5 percent
—but there are
about 12.2 million
of those. The vast majority of women who need capital are not forming hyper-growth startups; they are starting small businesses to pursue economic freedom, flexibility and independence.
Business ownership can be a particularly powerful wealth-building tool for women of color, according to
Closing the Women's Wealth Gap
, which notes that black women entrepreneurs have a median net worth ten times greater than that of their nonbusiness-owning peers.
However, these entrepreneurs face the greatest funding challenge: the dearth of loans to women combined with the fact that minority-owned businesses are
less likely to be approved for small business loans
and often receive lower amounts at higher interest rates. The problem is not a lack of entrepreneurial spirit: according to the U.S. Senate Committee on Small Business & Entrepreneurship, women are the nation's fastest-growing group of entrepreneurs, and the number of businesses owned by women of color is
growing even faster
than the aggregate: 9 percent between 2007 and 2018.
These inequities exact a huge opportunity cost, not only for individual women and their families, but for entire communities. Look at the data and you can see how the lending gap contributes to America's yawning income inequality:
American Express research
found that if revenues generated by minority women-owned firms matched those generated by all women-owned businesses, they would add four million new jobs and $1.2 trillion in revenue to the U.S. economy.
We can no longer ignore the needs of women and minorities across the country—it's immoral and we can't afford it. We also can't close the lending gap—and with it the wealth gap—with the same thinking that created it. Mainstream financial institutions are not incentivized to solve the problem, but foundations that aim to align their investments with their social mission are perfectly positioned to attack it at its root by investing directly in women and minority business owners.
An Immediate Solution: CDFIs
CDFIs are designed to move money to Main Street businesses. There are
over 1,000
of them across the U.S., they have always invested in financially underserved communities, and they have enormous unrealized potential for financial and impact returns. Often working in neighborhoods overlooked by traditional banks, CDFIs provide capital and financial services where they are needed most, funding small businesses, affordable housing, education, and community infrastructure.
They have a lot of room to grow: CDFI assets account for less than 1 percent of the $18.3 trillion combined assets of banks and credit unions today, according to the 
Local Initiatives Support Corporation
.  
That's largely because historically, foundations and impact investors have encountered a series of barriers to investing in CDFIs, including legal complexity, a lack of packaged products and lagging technology. Those barriers are now beginning to fall, enabling foundations and other investors to deploy capital with CDFIs to target place-based and thematic investment goals, at scale.
Building Bridges and Knowledge to Overcome Funding Barriers
One solution aimed at addressing these funding barriers is the Wisdom Fund, a co-created product designed to provide affordable loans and free coaching for businesses led by women of color and women in low-income communities.  
Developed by my firm,
CNote
, in collaboration with a group of CDFIs and a research team, the Wisdom Fund is also dedicated to discovering and solving for the roadblocks these entrepreneurs experience. We know women-owned firms face
higher interest rates
for business loans than men-owned firms, and women-owned firms with low credit risk are less likely to secure business loans than men-owned firms with similar credit risk. As Heather McCulloch notes in
Closing the Women's Wealth Gap
, "Women of color are doubly affected by the intersections of the racial and gender wealth gaps. They are less likely to have access to affordable financial products and services, business capital, and resources to save for retirement than white men and white women."
Implicit bias is no doubt one reason for these differences, but there's a lot we don't know about why current lending practices are not working for women.
To fill in that knowledge void, Wisdom Fund partners are gathering information on how women interact with the loan process, their product-level needs, barriers to business ownership, and why women opt out of taking on debt. As the program continues, the fund will leverage the data to improve outcomes, experiment with new ways to serve women entrepreneurs, and continue to scale the fund with new partners and investors.
Foundations Can Close the Funding Gap
Foundations can accelerate the effort to close the funding gap for women-of-color entrepreneurs by using their flexible capital to meet underserved needs. Providing grants for business technical assistance, using program-related investment (PRI) or mission-related investment (MRI) funds to support loan loss reserves or debt investments, and funding research on success factors for women entrepreneurs are all ways foundations could make a real difference.
Perhaps the most powerful action foundations can take to support women-of-color entrepreneurs is to serve as guarantors for new programs that invest in them. This would encourage more investors to step into the ring and increase the universe of funding—without foundations having to move any money unless necessary to cover losses. And even that risk can be mitigated by bringing in several foundations to provide guarantees for a single program.
Women Entrepreneurs Have the Drive and Creativity — All They Need is Funding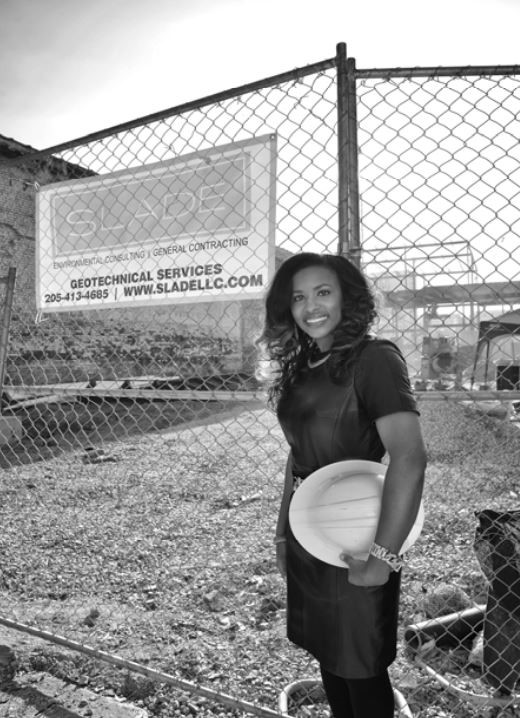 Pictured: L'Tryce Slade, Managing Director of Slade Land Use. Photo Credit: TruFund. 
The Wisdom Fund's inaugural CDFI partners provide myriad examples of the kinds of entrepreneurs who will benefit from a dedicated flow of loan dollars. The
Carolina Small Business Development Fund
can fund more entrepreneurs like Shavon Marley.
TruFund
can support more women like L'Tryce Slade (pictured above), whose Birmingham, Alabama–based green building construction firm, Slade Land Use, used loan dollars to employ 24 contractors and complete three contracted projects on time and on budget.
LiftFund
can provide working capital to more entrepreneurs like Myreida Salinas, owner of Myreida's Linens in Laredo, Texas, who used her financing to expand inventory and expand her linen rental business into décor rental and event planning.
Businesses like these may not become the next tech unicorns, but they are the kinds of enterprises that fuel local economies across the country and can help close the country's wealth gaps. To realize that potential, though, Main Street women-of-color entrepreneurs need access to affordable capital and advisory services designed to vault them over the intersecting barriers they face. Growing a business is transformative for the business owner and her community. More women of color should have that experience—and more impact investors should fund it.