Announcing New MIE-Curated Series on Racial Equity & Impact Investing in Stanford Social Innovation Review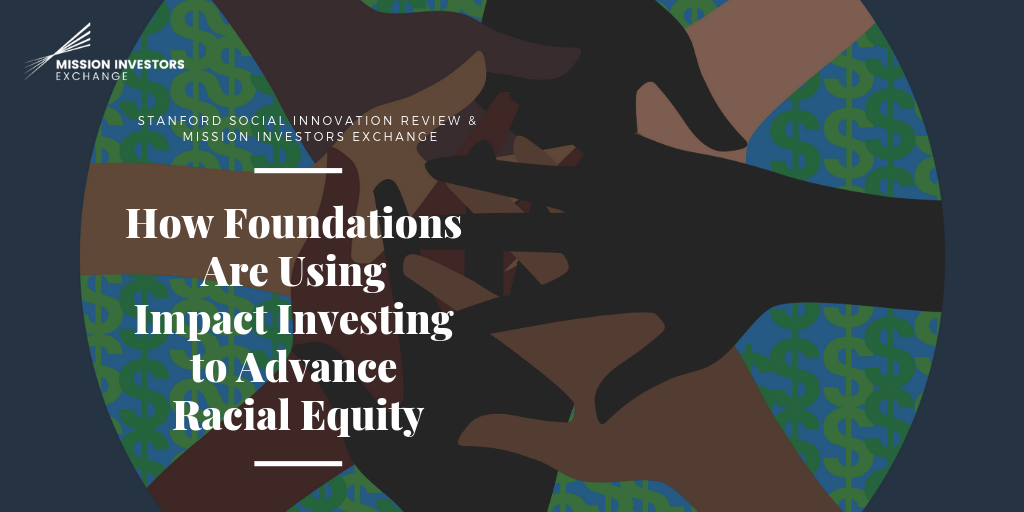 Letter from MIE CEO Matt Onek Announcing the Series
February 25th, 2019
Foundations and our partners play a critical role in keeping "impact" at the heart of the growing impact investing movement. But there is one area of "impact" that has received insufficient attention: racial equity.
These essays feature the perspectives of leading foundation presidents who have committed to addressing racial equity in their impact investing practices. Please see the complete list of authors below.
We are grateful to all of the series contributors and hope these essays provide inspiration and actionable examples to help you advance your own work. Stay tuned for announcements on upcoming essays in the series, new resources on racial equity, and polls to gather your knowledge on this topic. And please reach out directly to me if you have feedback or would like to share insights from your own practices. We are very eager to learn more from you and other experts in the field. Together, we can ensure that the impact investing movement plays a major role in the pursuit of racial equity.
Best,
Matt
Series Essays and Contributing Authors
Excerpted Responses to Essays in the Series
 "I am intrigued to hear more about the interplay of internal transformation and external engagement so as to get a better understanding for how internal functions like HR function can help shape external strategies like grant-making or PRIs." —Anthony Berkley, Vice President, Strategy and Impact, Prudential Financial
"I would echo your challenge to other philanthropic organizations – are your bank deposits working in alignment with your mission? Are the financial sector investments in your portfolio supporting a financial institution that is working for your social purpose?" —Darrin Williams, CEO, Southern Bancorp
"Your reference to 'many years of board education, debate, [and] discussion' hints at how intentional these types of board-level shifts must be, and the leadership resilience and commitment it takes from boards, executives, and staff teams." —Anne Wallestad, President and CEO, BoardSource
"I admire the leadership of the Winthrop Rockefeller Foundation in moving a significant percentage of its endowment capital in a relatively short period of time to impact investments driven to address racial and gender equity. You're busting the myth that the pipelines are dry though certainly much more must be done to increase deal flow." —
Richard Woo, CEO, The Russell Family Foundation
"Thank you Lisa for highlighting the role of CDFIs, a little known tool and partner within the broader philanthropic sector." —Kristine Michie, Vice President of Strategic Philanthropy and Investments, Accion
 "Until recently, the weight of efforts to alter such lingering, distortive [racial] inequities has fallen largely to public pension funds, whose governing bodies increasingly reflect broader diversity than those of many private institutions. Foundations, for all of their tremendous work to advance racial justice and equality in the United States, have been noticeably absent among the ranks of institutions investing with diverse managers. Indeed, a recent study found that only 1% of capital provided to under-represented venture capital and private equity fund managers came from foundations." —Laurence Morse, Co-Founder and Managing Partner, Fairview Capital Partners, Inc. 
"We need more such examples of principled investment. We also especially need them in countries where the benefits can be even larger than in our own and where the investment difference can be as stark as life and death. To achieve thoughtful targeting of investments we need to understand what works."—
Daniele Giovannucci,
President, The Committee on Sustainability Assessment (COSA)
"As extensively laid out in this series, it will take the collective and bold action of the entire investment ecosystem to achieve systemic and sustainable change." —
Kesha Cash, General Partner, Impact America Fund
"Think about approaching economic development in Indian Country in a [holistic way]: governance and business management; training/education; industry development; proper investments on and off reservation and individual business endeavors." —Theodora Hardcastle, Member, Standing Rock
"Prudential is walking the walk here—taking a hard look both internally and externally at what's going well and where there's room to get better—and then taking action. This is a powerful model for other corporations—I hope they will take note!" —Leigh Tivol,
Vice President, Strategy & Engagement
, Prosperity Now