MIE 2020 National Conference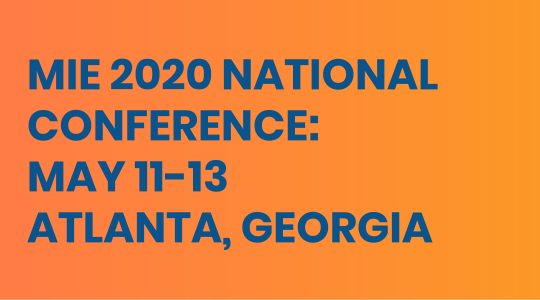 Join Mission Investors Exchange for our next National Conference on May 11-13 in Atlanta, Georgia! Held every two years, the National Conference is a dynamic, highly-anticipated 3-day event at the forefront of impact investing, where investors renew and build partnerships, experience on-the-ground investments, meet leading voices in the field, and explore together what it will take to build a lasting movement centered on deep impact.
We will be releasing information on Conference themes, registration, speakers, and more in the months to come. Sign up for our
newsletter
to receive all Conference updates! And contact
Anjali Deshmukh
for questions on the Conference.
MIE is pleased to be supporting our members and partners who have established a burgeoning impact investing ecosystem in Atlanta and hopes our 2020 National Conference can bring additional focus to the region. Some of our members have expressed concerns about the recent legislation passed in Georgia and elsewhere in the region. We are committed to engaging with our members and partners on critical social and environmental issues and to developing programming at our National Conference on the role impact investing can play in addressing them. Please reach out to MIE's Managing Director, Nhadine Leung, with any thoughts or questions you may have.