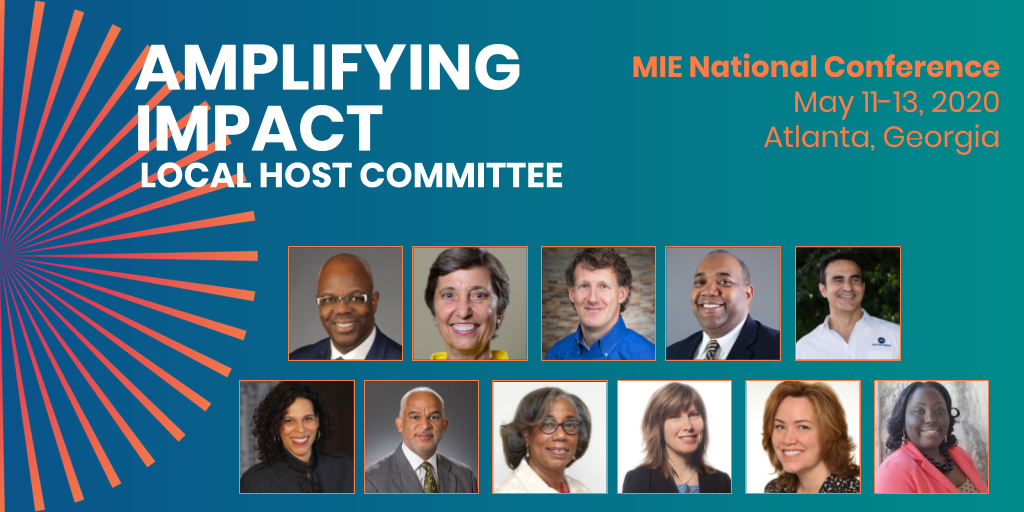 Left-right: Ronald Alston, SunTrust Bank (now Truist); Ann W. Cramer, Coxe Curry & Associates; Mark Crosswell, Community Foundation for Greater Atlanta; Alan Ferguson, Invest Atlanta; Frank Fernandez, The Arthur M. Blank Family Foundation; Tiffany Friesen, Southeastern Council of Foundations; Kweku Forstall, The Annie E. Casey Foundation; Rita Gibson, University Community Development Corporation, Inc.; Karen Leone de Nie, Federal Reserve Bank of Atlanta; Meaghan Shannon-Vlkovic, Enterprise Community Partners, Inc.; Tené Traylor, The Kendeda Fund.
Welcome, Local Host Committee!
MIE is thrilled to announce the Local Host Committee for
Amplifying Impact
, the
2020 National Conference
 in Atlanta from May 11-13! Pictured above, the Committee members represent 11 organizations that are actively engaged in impact investing in Atlanta. Together, they are critical partners for the Conference, providing important insights for programs and helping to shape an experience deeply rooted in Atlanta. Read on to learn about their work.
Don't forget to register for the Conference before prices increase on February 28. Plus, click here to reserve your room before space runs out!
Advancing Atlanta's Impact Investing Ecosystem
The Local Host Committee and their organizations are working together and with dozens of other investors, nonprofits, social enterprises, and advisors to build Atlanta's impact investing ecosystem. Their investments and other forms of financial and non-monetary resources are dedicated to addressing poverty and income inequality in Atlanta from all angles, by 
providing access to economic opportunities
,
nurturing leadership
,
supporting quality, equitable education
, and much more. Through this work, they and others are supporting the development of new funds,
cross sector collaborations
, and organizations committed to ensuring Atlanta's growth leads to prosperity for all.
Below we share more about each organization's mission. Stay tuned in the coming weeks for more examples as we get ready to announce the Conference's Beyond the Walls sessions, featuring investments at work across the city.
Fostering a brighter future for children by strengthening families, building stronger communities, and ensuring access to opportunity.
Connecting business and civic leaders to find solutions for social issues facing their communities.
Ensuring opportunities for all Atlantans by connecting donors with nonprofits that help communities in Atlanta thrive.
Serving greater Atlanta and Georgia by providing professional counsel to help nonprofits attract resources, accomplish their missions, and serve the community.
Creating opportunity for low and moderate income people through affordable housing in diverse, thriving communities.
Activating underutilized financial, human, and social capital to foster the conditions that facilitate inclusive economic growth.
Advancing Atlanta's global competitiveness by growing a strong economy and increasing economic prosperity for all Atlantans.
Providing community-driven solutions through investments in transformative leaders and ideas, to fill critical gaps that are often overlooked or ignored.
Serving, connecting, strengthening, and championing philanthropy and philanthropic infrastructure in the South.
Building financial confidence through access to banking services and credit for low and middle income communities.
Creating safe, vibrant, and healthy communities through economic and social development initiatives.